Thinking about getting a cell phone booster for your RV? Read this first!
Cell phone boosters for RVs are nothing new for The Solid Signal Blog. That's because it's important to have reliable cellular signal when you're in your RV. (This is very important when you're boondocking!) We've also taken a lot of questions about these devices, but no RV owner has asked us if these boosters work… until now. The answer to that question is easy, but it tends to lead to other questions. That's why we've put this question-and-answer blog post together for RV owners. You have questions. I know you do. And I'm here to answer them in the following order: do, how, what, and how (again), and where. Keep reading!
Q: "Do RV Cell Boosters Work?"
A: Yes, cell phone signal boosters work quite well in RVs, campers, and motorhomes. Whether you're driving or parked, a cell phone signal booster reduces dropped calls, missed texts, and uninterrupted data.
Q: "How Do Cell Phone Boosters Work?"
A: Now that you know they work inside RVs, this is probably your next question. Since Solid Signal is your cell booster expert, we're happy to answer you. The basic answer to this question is this: cell phone boosters take weak incoming and outgoing cellular signals and simultaneously boost them both. This means fewer dropped calls, missed texts, and uninterrupted data.
Do you want a deeper understanding of how cell boosters work? For that, we need to look at the components of a cell phone booster. These devices consist of an outdoor antenna, booster, and indoor antenna. Here's how these three devices work in conjunction to booster your cell phone signal:
The outdoor antenna delivers voice and 3G, 4G, and LTE data signals to the booster.

The booster amplifies the signal, then sends it to the indoor antenna.

The indoor antenna broadcasts the signal throughout your RV

This process works in reverse when you make a call or send data.
See? It's not really that difficult to understand how cell phone boosters work in your RV.
Q: "What Cell Phone Booster is Best for RVs?"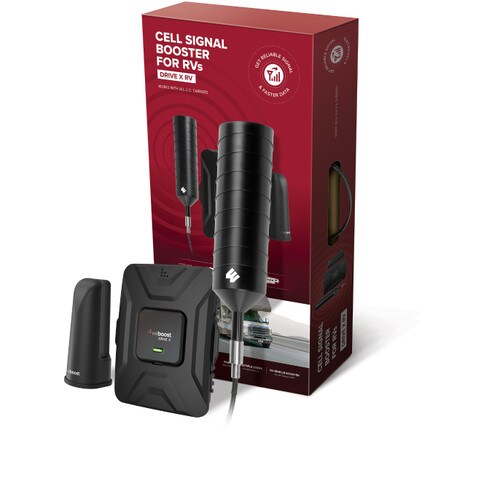 A: We recommend the weBoost Drive X RV cell phone signal booster kit. It's perfect for all RVs, particularly Class A and Class C. You can also use it with towable campers and travel trailers. This device boosts 3G & 4G LTE signals when you're driving and while you're parked. Best of all, it's compatible with all phones, tablets and hotspots. The booster also works with all US carriers. Best of all, its outdoor antenna quickly and easily fits most CB-antenna mounts and exterior RV ladder poles.
Q: "How Do I Install a Cell Phone Booster in My RV?"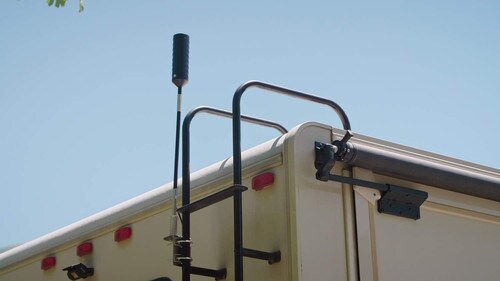 A: You're asking a lot of great questions today! You might be glad to know that it's fairly easy to install your cell phone booster. You have to start with the right tools:
A ladder to get on the roof of your RV

Adjustable wrench

Hand drill
Now that you know what you need, follow these 10 steps to install your cell phone booster:
Find a secure spot atop your RV ladder pole to attach the outdoor antenna and mount using an adjustable wrench.

Attach one end of the coax cable to the outdoor antenna atop your RV.

Drill a hole into your RV. This one must be big enough to let you run the other end of the cable from the outside to the inside. To weatherproof the hole, use a wall bushing.

Run the coax through the bushing until it reaches the room where you'll keep your cell phone amplifier. (If you're worried about drilling into something valuable, ask a friend, family member, or your local RV repair shop.)

Connect the free end of the cable to the cell phone booster. This connects your outdoor antenna to the booster's main system.

Put the indoor antenna where you plan to make the most phone calls. Make sure it's roughly 15′ vertical, or 30' horizontal from the outside antenna to prevent interference.

Connect one end of the indoor coax cable to the antenna and the other to the amplifier.

Plug one end of the power supply into the booster and the other into a nearby outlet. The unit will sync up and show green lights, which means it's working.
Q: "Where Can I Get a weBoost Drive X?"
A: Right here at Solid Signal, of course! We're an online electronics product retailer that specializes in cell phone signal boosters, among other things. We also understand the needs of RV owners. (Our Signal Connect division specializes in DIRECTV for RVs.) If you're ready to get your own weBoost Drive X, you can order directly from our product page. (We make these things easy for you.) If you have any questions that weren't asked and answered here, give us a call at 877.312.4547. You can also fill out the form below and send it to us.