Do you worry about whether you shut the garage door or not? If so, Solid Signal has just the thing for you!
Leaving the garage door open is everyone's nightmare. Well, everyone with a garage, anyway. I get plagued by these doubts when I'm halfway toward an important appointment, like a plane I'm about to catch. For example, I almost missed my flight to Hawaii because I "had" to turn around and go home to check my garage door. (It was closed, in case you're wondering.) If ANY of this sounds familiar, Solid Signal has a solution that will keep your home safe and help put your mind at ease. It's called…
…The Smart Wi-Fi Garage Door Opener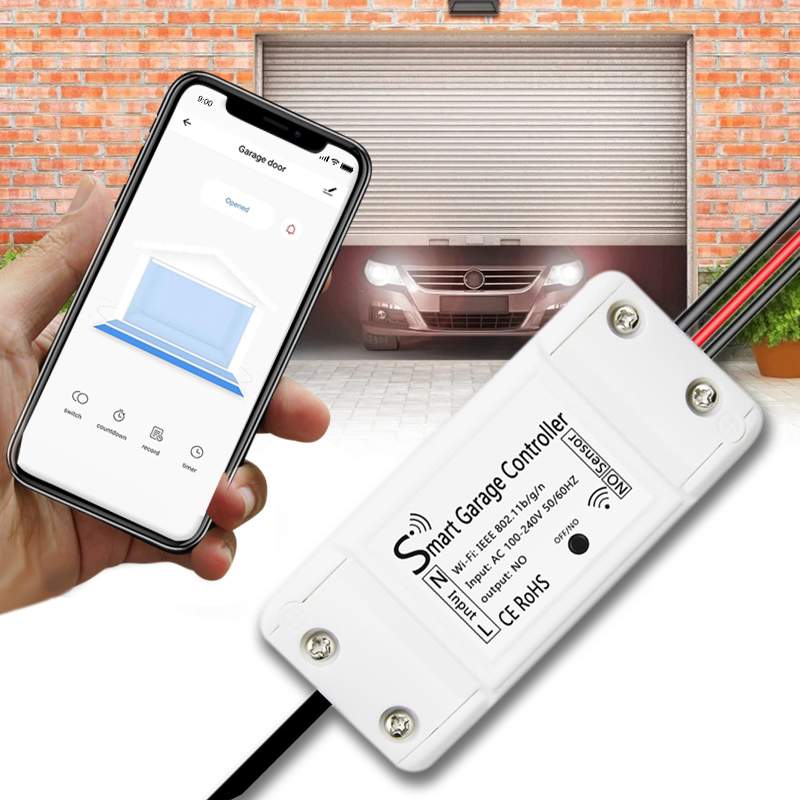 Well, its full name is the Smart Wi-Fi garage door opener for App Alexa or Google Assistant. Some people call it a "Wi-Fi garage door opener." Whatever they call it, most people agree that it's the definition of convenience and peace of mind. So, what is this product? Well, it's really these two things in one:
A device that attaches to your garage door opener. (It's compatible with most garage door openers, even many of those from the 1980s!)

An app that lets you operate that opener with your phone or smart assistant.
Together, these things give you the ability to check whether your garage door is open or closed wherever you are. It also lets you close or open that garage door wherever you are. To do this, you'll need some help from smart digital tools such as Smart Life app, Amazon Alexa, Google Home, and IFTTT. (It also supports voice passwords when you use it with Google Home or Alexa.) In addition to remotely opening and closing your garage door, this product also helps you:
Set your garage door to automatically open when you arrive.

Deliver alerts when your garage door has been opened or closed.

Keeps a history of door activity for your records.
Have Questions About This Wi-Fi Garage Door Opener?
It wouldn't surprise me if you do. When I first heard about it, I wanted to know how it worked. I mean, people were telling me that I could open or close my garage door no matter how far away I was. That's definitely what I consider a tell-me-more moment. I wasn't alone. A lot of people called and emailed their questions about this smart garage door opener. Our reps have answered their questions, which I've shared with you here.
Question: How easy is it to install this?
Answer: I could give you a step-by-step installation guideline, but that's just theory. You'll learn more by watching the video made by someone who actually installed this device. It's my colleague, Mike Childers, aka "Mr. Signal." Check it out:
Q: Can I use multiple smart garage controllers within the same app? I have multiple garage doors and want to be able to control them independently.
A: Yes. Just be sure to label them differently in the app, such as Garage 1, Garage 2, etc.
Q: I have two garage doors. Can I control both with one smart garage controller?
A: Technically, you can use one unit to control two doors. To do this, you have to parallel wire to the second garage door wall switch; but, if you do that, the open and close sensor would only work on one door. We recommend getting two smart garage controllers to get the most benefits, such as independent door control, alerts for each door, and separate open/closed statuses.
Are You Ready to Stop Worrying About Your Garage Door?
Then you should get this Wi-Fi garage door opener from Solid Signal. You already know it's probably going to work with your automatic garage door, and it's very easy to install. You also know how much peace of mind you'll get from having this convenient system. If you want to know more, give Solid Signal a call at 877-312-4547. You can also fill out the form below and send it to us. One of our reps will contact you to discuss this smart Wi-Fi garage door opener.