Have you ever bought an inspection camera and ended up being disappointed with it? Our newest one solves the biggest problem with borescopes from the past.
If you have a problem with previous inspection cameras, we know what it is. It was the cell phone compatibility, right? Or, more to the point, the LACK of compatibility with your phone due to outdated apps. If you struggled with that in the past, we have your solution. It's this professional inspection camera. It solves the problems that older borescope products have because THIS snake camera comes with its own…
…4.3" Screen Display!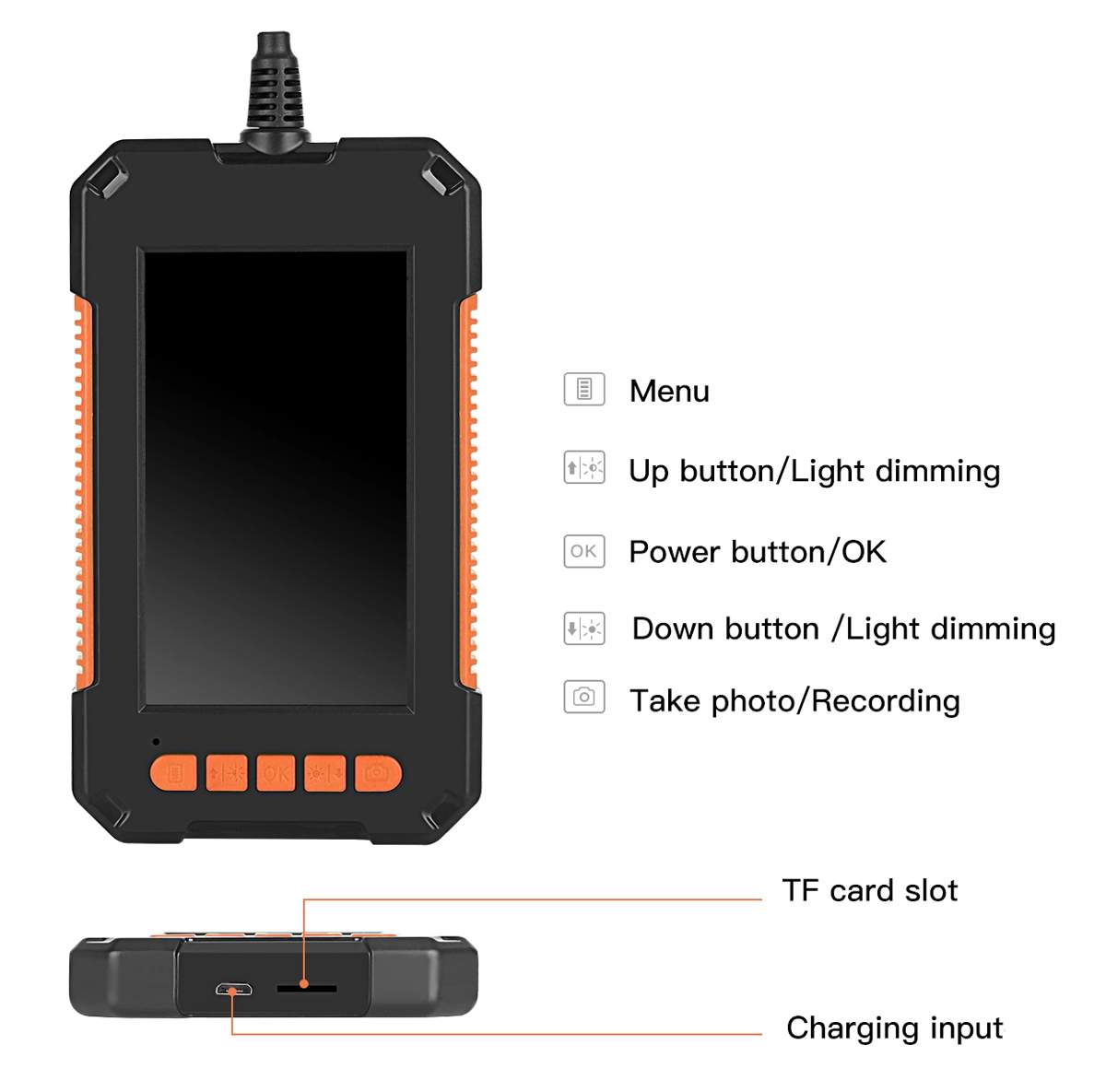 This means you don't have to connect it to your cell phone at all. In other words, no apps, no problems! The screen that comes with this borescope displays everything the camera sees. And it shows it all in vivid color and reception quality. And, just like your cell phone, the screen gives you the ability to take photos and even video, and save it using the micro-SD card slot. (Micro-SD card not included.)
Basically, you get ALL the benefits of attaching this inspection camera to your cellphone WITHOUT the app compatibility that was a problem with other borescopes. One person who purchased this borescope from us appreciated having the attached screen. He described the product as a "great value" and had this to say about it:
"I use this on the job for running cables and checking for obstructions in the wall. The camera quality is definitely HD, and I use the picture/video saving feature to show clients issues if I run into them. The cable is bendable so you can run it in areas pretty nimbly. The screen portion makes for a reliable camera setup. I've used phone-connected inspection cameras before, but the apps are flakey and poorly supported."
Here's a little video showing it all.
"What if I've Never Had a Borescope Before?"
Then THIS one is the best place to start! This is a working person's camera, plain and simple. Because the camera is mounted on a 16' semi-rigid cable, it can see inside places you normally can't reach. You can literally snake this waterproof camera down any pipe, hole, or crevasse to check out whatever you need to see. Just think of the many names it's called – drain camera, plumbing camera, etc. – and you'll easily see why plumbers and handymen (and women) love this inspection camera.
They're not the only ones! This handy borescope is a huge hit with folks from professions outside of plumbing. Some of these include:
Auto Mechanics: This camera reaches into the nooks and crannies of any vehicle.

Electricians: Put a small hole in the drywall will allow this camera to show them what's behind it.

Exterminators: This helps them find infestations behind walls and under floorboards.
As we said above, this camera and cable are waterproof. (It has an IP67 rating, which means that it can be safely immersed in up to 3'/1m of water.) That makes this inspection camera great for hobbies such as fishing. You can use it to see:
What's underneath the boat.

What's in your minnow or crab traps.

What your lure/hook is caught up on.

What type of fish you have on the line before you land it.
Since it's so good for so many things, the only thing to do is…
…Get This Inspection Camera from Solid Signal
We are proud to have recently added this snake camera to our online inventory. If you want more details about it, you'll find them on our product page. If you have questions about it, we encourage you to give our US-based reps a call at 877-312-4547. If you're reading this after business hours, feel free to fill out the form below and send it to us. Someone from Solid Signal will circle back with you to discuss this inspection camera.