I'll come clean with you all. I enjoy measuring things. It's one of those simple bits of life that brings me joy. It's such a comfort to me to be able to know with some certainty how much of something I have. Some of my favorite signal meters come from Solid Signal, because of course they do. I mean, the company has "Signal" as part of its name. Here are a few of the signal meters I've tested. These are the ones I put my faith in.
Best Antenna Signal Meter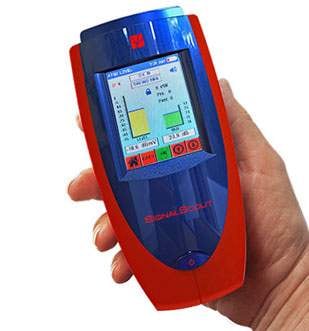 This is the Psiber SignalScout. For its relatively low price, it packs a lot of features inside. It's a full-featured antenna and cable TV meter that will give you the information you really need. You can spend a lot less on an antenna meter, but those cheap meters give you raw signal strength. For digital signals you need signal-to-noise ratio. And this meter provides it easily.
My favorite part of the SignalScout is that it's light and runs for hours on its rechargeable battery. I have more expensive meters I use for really fancy measurements, but this is the one to pull out if I'm going over to a friend's house to aim an antenna. No need to carry more than this small package.
SHOP NOW FOR THE SIGNALSCOUT ANTENNA METER
Best Cellular Meter
This one's actually a tossup. I have both the WilsonPro signal meter and the SureCall signal meter. I carry both of them with me. Why? The WilsonPro measures more accurately. I can set it down to the individual frequency. It also gives me more visual representation of what's going on. But, the SureCall meter measures one signal band that the WilsonPro doesn't. It's a pretty unnecessary band, mostly used by Sprint's older phones. But sometimes I like to get the whole picture.
What's nice about these meters are that they are both really light, have fantastic battery life, and don't cost a lot. Professionals will want to skip both and go straight to the CellLinq system. Why? Cellular signals are digital just like TV signals. These less expensive meters only give you raw signal strength. This is enough in most cases but if you really want to know what's going on you'll want a system that includes real signal-to-noise ratios. That's CellLinq. It connects up with your phone to provide real-time measurement of cell signals. But, that meter is more expensive. It's out of the reach of most folks.
SHOP NOW FOR THE WILSONPRO SIGNAL METER
SHOP NOW FOR THE SURECALL SIGNAL METER
SHOP NOW FOR THE CELL LINQ SIGNAL METER
Best Satellite Meter (DIRECTV)
Really for DIRECTV there's only one meter you should be looking at. It's the AIM 2.0 Advanced Installation Meter. This meter is custom designed for AT&T installations. It's the meter the technicians use. Honestly it's not really a meter so much as a training device in a box. It will give you step-by-step instructions on what to do as you aim your satellite dish. It's not cheap but if you're going to aim more than one dish a year it's going to pay for itself.
The only other real alternative is using the signal meters on the receiver itself. This is great for a quick fix but you'll need two people, one reading the numbers off the TV and one adjusting the dish. Trust me, this gets old real quick.
Best Satellite Meter (DISH)
On the DISH side, I recommend the Applied Instruments XR-3 with the TurboS2 Module. The name's a bit of a handful and so is the meter. It's pretty big, definitely a two-hander. But it's worth the money and time spent lugging it around.
The Applied Instruments XR-3 is a general-purpose test platform that looks like what you see above. It can be fitted with several different modules depending on what you want to test. These modules are user-swappable if you want to go that direction.
For satellite use, the Turbo S2 module gives you everything you'll need to aim a DISH system. This meter is definitely made for professionals but if you're aiming DISH Eastern Arc, it's pretty much your only option.
The other choice would be to use the signal meters on the receiver itself but this takes two people. Unless you're able to put a receiver right up near the dish, you'll need someone to read those numbers to you as you make adjustments. Trust me that gets old pretty fast.
SHOP NOW FOR THE XR-3 / TURBO S2 SIGNAL METER
Get everything you want when you shop at Solid Signal
No matter what you want to measure, you'll find everything you need when you shop the great selection at Solid Signal!