Call it the "Goldilocks effect" of cell boosters. You know what I'm talking about. The weBoost for Business line has three parts, and the Office 200 is undoubtedly the one that's "just right." The Office 100 works for smaller businesses and the Office 200 | Installed is for even larger ones. If you're trying to hit that sweet spot of price and performance, it's the middle one that's "Just Right."
Easy installation, everything you need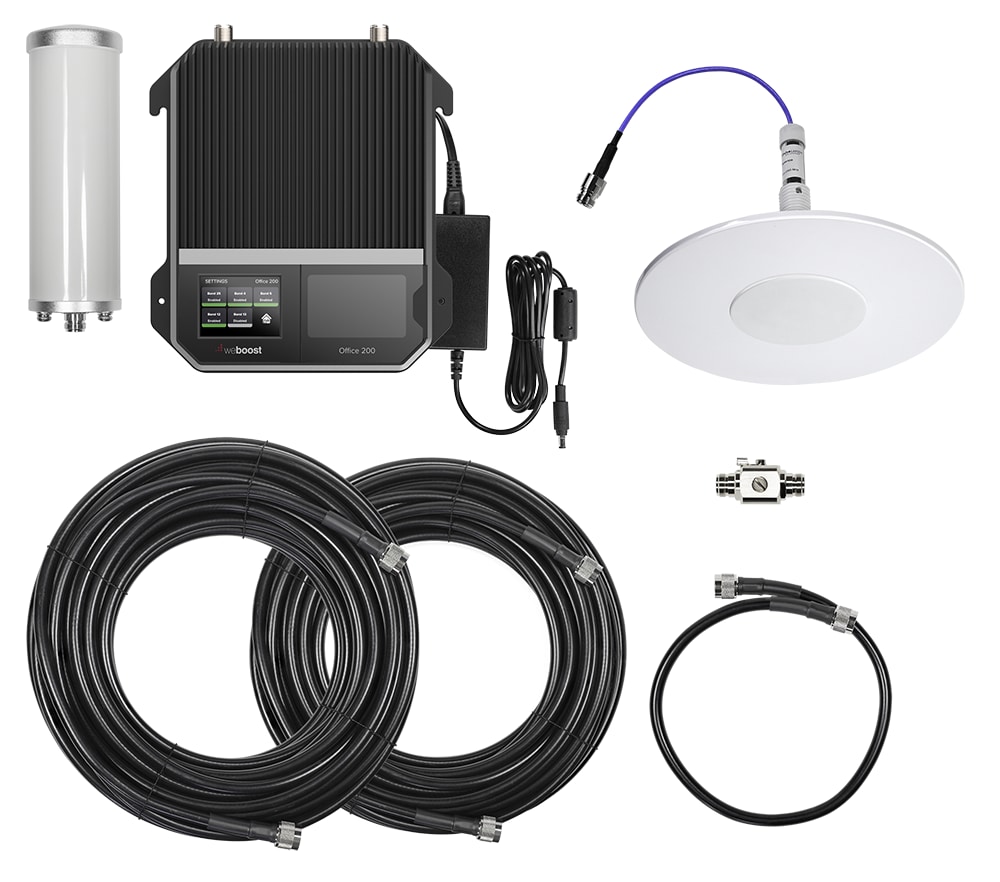 The nice thing about this kit is that you get a lot of parts. You get all the cables, connectors, and antennas to make this a successful install. But, I could see how that would make it a little intimidating. When the box arrives to you, it's pretty big, and it's hard to know if you're going to be able to use everything that you get. That's where I come in.
Unboxing the Office 200
The first video I prepared is a simple unboxing. The Office 200 uses a lot of off-the-shelf parts which keeps costs down. It does mean that the unboxing experience is a little more industrial and a little less "high gloss retail.
There's a lot of cardboard and a lot of packing material, in a relatively simple box. But, don't take my word for it. Take a few minutes and watch this unboxing experience video.
This was one of the more fun unboxings to do because there is so much to it. And when I was done unboxing, there was a lot still unanswered, which was fodder for another video
Installing the Office 200
I wanted to do an install video that would help people who really were going to put this thing up. In reality a 15,000 foot space is pretty big, but it might not be big enough to house a company that has its own full-time facilities person. I wanted to show that a regular person with some skills could put this thing together and get a great result.
Our West Coast offices are far too small to benefit from a booster like this. So I set out finding an office where I could do this install, and where they would benefit from it. All was going well but at the last minute our donor office backed out. I wanted to get this video out because there's no one else with an install video for this product. So what could I do?
In this video, I go through a "mock install" of the Office 200. I do everything that you would do, except I don't really do it in a big office building. In this video I show you how I would do it, with the parts I have here at the West Coast Operations Center. I think it's enough that you get the point.
When you're putting together a booster system like this, planning is the biggest step. I knew that, and I also knew that planning was going to be different for every person. When you install a super-booster like this one, you'll need to know where to put the outdoor antenna so it gets signal. You'll also know where to place the indoor antenna for best results. Often times it's in the middle of the space, but there are other factors.
Remember that building materials have a lot to do with cell reception. You may find that your conference room is next to a wet wall, which blocks a lot of cell service. Or, you may find that the boss's office, which is nowhere near the middle of the office, gets the worst reception. And of course if the boss isn't happy, no one is happy.
What I learned: separation is key
Most boosters only recommend that the two antennas be separated by 15 feet. This booster is so powerful that they tell you you must have 25 feet of vertical separation or 60 feet of horizontal separation. Start by figuring out where to put the indoor antenna, then do a survey on the roof to figure out where to put the outdoor antenna to get the best results. You'll need to find a place where you get decent reception, but it doesn't have to be perfect. You'll also want to figure out how to feed the cables inside without creating damage to the building or a place for water to get inside.
Once you have some idea where to put the antennas, you can go through the same steps I have and you'll get great results.
Get the Office 200 booster from Solid Signal
When you're ready to upgrade the cell service in your large office, get this booster from Solid Signal. It's so easy to install and provides stellar results!