Summer's here and that means fun on the water. For some of us, that means setting off in the cabin cruiser for some serious get-away time. But getting away from it all doesn't really mean what it used to. Here in the roaring '20s, it means getting away from what bothers you and keeping connection to the things you want. For that, you need cell service.
The problem with cell service on boats
We don't think about it much, but cell phones don't just connect "by themselves." In order to connect to the world, the phone needs to be within about 1.5 miles from a cell tower. On the open water you will sometimes get a little bit more range since there's nothing between you and the tower. But you're counting on the tower being right by the water, and sometimes they aren't.
Option 1: Cell Phone Signal Booster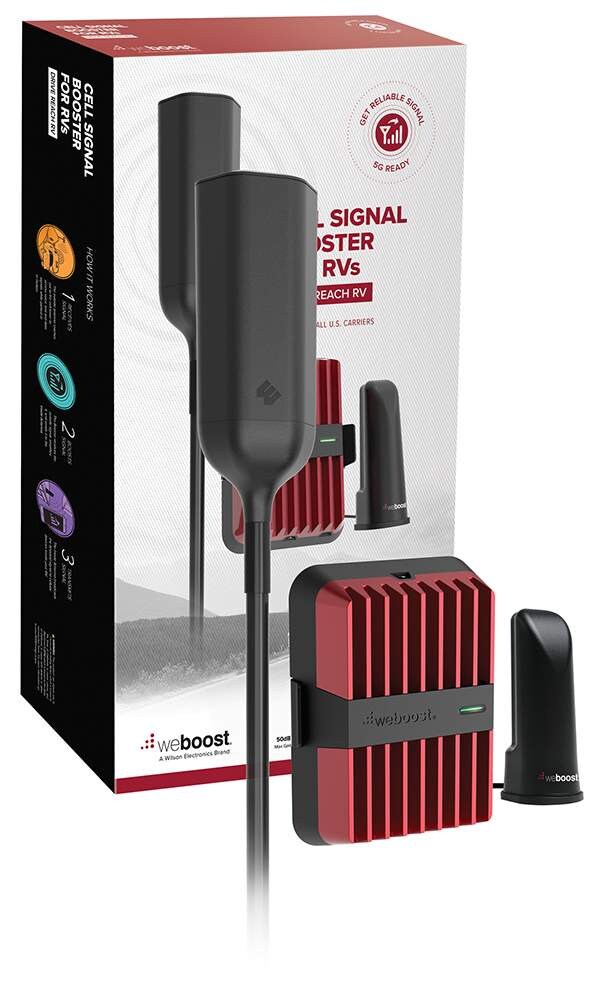 A cell phone signal booster takes weak signal from outside and rebroadcasts it inside with more power. It won't help if there's no signal outside, but it will give you much better results if there's even one bar outside.
There aren't a lot of marine-specific cellular signal boosters, but most RV signal boosters like the Drive Reach RV from weBoost will give you great results. Boats and RVs share a lot of the same characteristics, if you think about it. Both are fairly confined spaces that by definition aren't really good for cell signals. Both need to have the antenna be strong and weather resistant.
A cell phone signal booster should give you reasonably good cell service if you stay within 2-3 miles of shore. That's enough to get away from it all in most cases, right? The weird thing is that in some of those really distant areas, you'll get better cell service in the cabin than you will outside. That's because the cell booster's antenna is more sensitive than the one on your phone. It's piping a better signal down below decks where it's amplified even more.
Option 2: Satellite Internet
There was a time when satellite internet was slow and incredibly expensive. It's time to rethink everything you thought you knew about satellite-based internet.
New technologies and new broadcast frequencies have meant that satellite internet today is comparable in speed to LTE (cellular) internet. It's not as good as 5G, I won't lie to you. But it's a lot better than you might have thought.
Satellite internet isn't incredibly cheap. But then nothing in the marine world is. You didn't get into boating to save money. You got into it to live a better life. So splurge a little bit and get the solution that makes the most sense, not just the cheapest one.
Getting the cell service you deserve
There's one way to make sure you stay connected and do it right. Call the experts at Signal Connect. With close to 20 years of experience helping customers with their communication needs, Signal Connect is always the best choice.
Why choose Signal Connect instead of your local marine dealer? Communications systems are tricky. Your local dealer or repair shop is a great resource for a lot of things, but they may not have the specialized knowledge they need. Every solution is going to be different. You need an expert on your side. And, that's what you'll get when you work with Signal Connect.
You'll get an expert tech who works with you from beginning to end to get you the right solution. You'll get someone you can contact over and over again, instead of getting the runaround from some overseas call center. You deserve white glove treatment. We provide it.
It all starts with a call to 888-233-7563. Call during East Coast business hours, or if it's after hours, fill out the form below and we'll happily get back to you, usually within one business day!